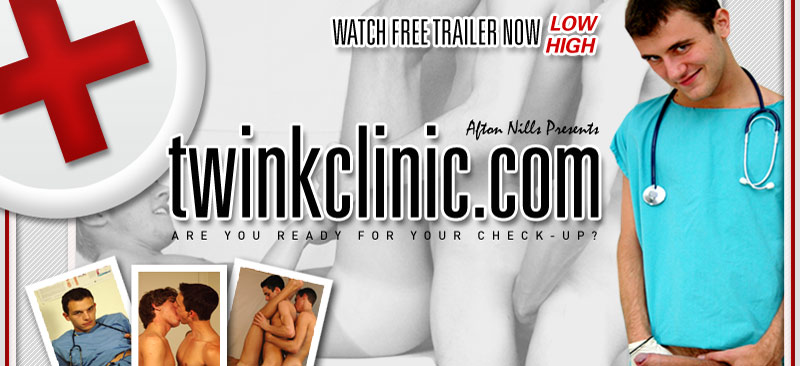 Blake Bigalow Sean Corwin
Being a nurse is a stressful job! Sometimes all you need to relax after a day of changing bedpans and listening to patients complain is a nice back rub! Well, when these two twink nurses start rubbing backs its only a matter of time before they start rubbing cocks! You know how these things work! Back rub leads to blowjob leads to sodomy leads to c...
Austin Parker Jesse Jacobs
Jesse Jacobs and Austin Parker are sitting around in the Examination Room at their Clinic when Sean Corwin walks in and asks that they strip down naked for the Doctor. The Doctor then walks in and examines both of their cocks and assholes. He then leaves them alone...and during said time they decide to get in to a little bit of Twink action! Jesse ...
Kayl O'Riley Sean Corwin
Kayl O'Riley isn't even sick! He's just got a big crush on his doctor, Sean Corwin and he cant stay out of the office! Well, it just so happens that Dr. Corwin has got a bit of a hard on for his patient as well! He knows exactly what to prescribe for this needy little Twink. . . one big shot of hot beef injection! He sucks his patient and rides tha...
Aiden Riley Scott Blair Mason
Blair Morgan is at the doctor's office and gets his medical screening from Aiden Riley Scott. After the young nurse checks him in, the doctor comes and probes Blair all over, looking for the trouble. Turns out Blair's throat is swollen so the doctor keeps poking at him to see what else could be involved. Then, although we're not sure it's relate...