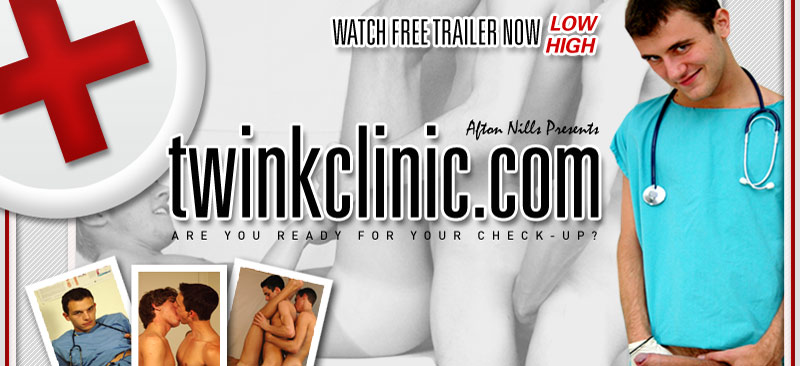 Blake Bigalow Sean Corwin
After a long day at work Doctor Bigalow takes a little break in the employee lounge where he finds Nurse Corwin. Sean offers Blake a much-needed massage. Sean starts to move his hands around the front to find out that's not all the Doctor wants. Blake then tells him to suck his nice big cock. After Blake is nice and hard Sean climbs on top to take ...
Austin Parker Jesse Jacobs
Returning from overseas, Austin and Jesse visit the doctor for their routine check up. The two exchange some dialog while they wait for the Doctor. The nurse soon enters (played by Sean Corwin) to take the guys vitals before the Dr. comes in for the exam. Shortly after, the nurse leaves, in walks the Dr. (played by Blake Bigalow) where he conducts ...
Kayl O'Riley Sean Corwin
Nurse Kayl comes in to help Sean with a really hard problem. Sean has had a hard on for the past 24 hours and can't get it to go down, so Kayl decides to try and suck this harsh problem out of him. Finding that a good sucking doesn't solve the problem, Kayl jumps on top of Sean and gets a ride from his big hard cock. Sean then finally relieves his ...
Blaze Corgan JJ Stone
As we check what is going on in the other examining rooms we stumble across JJ Stone who is suppose to be giving Blaze Corgan a check up but instead is giving him a blowjob. At the same time Vlaze is giving one to JJ as well. They then strip off all their clothes and get into some more hot oral in a hot 69 position. Once Blaze is good and hard he t...